Wine Education Bundle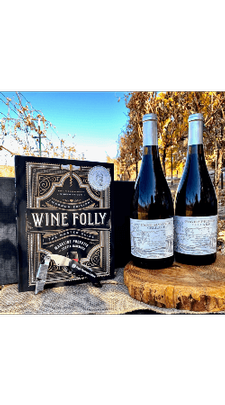 Go on a tasting journey with our House Mountain Syrah Clone 471. House Mountain Vineyard can be found about one mile upstream from our Estate. This nine-acre site is planted to several varieties and is higher in elevation than our Estate and sits just above the cold air drainage line in our valley. Taste these two wines side by side to get a sense of the differences that lie within varying fermentation methods.
Accompanied by a PSC corkscrew and a fun, educational book. The wine and corkscrew are packaged in a sturdy black box with brown krinkle. The book will arrive outside of the black gift box (but in the same shipment) and can be easily included once it's time to gift.
Bundle includes:
One (1) bottle of 2021 House Mountain Syrah Clone 471
One (1) bottle of 2021 House Mountain Syrah Clone 471 Whole Cluster
One (1) Page Springs Cellars Corkscrew
One (1) book: Wine Folly - A Master Guide - Magnum Edition
Product Reviews