Second Harvest Body Butter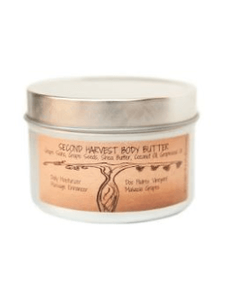 Produced in-house from our own vineyard's grape skins and seeds with shea butter, coconut and grape seed oil. Unique healthy oil-based daily skin moisturizer or great for use in massage. Leaves skin feeling hydrated and rejuvenated and protects from day to day elements. Local and 100% hand made and bottled.
$10 per 3 oz.
Best when stored at room temp!
Product Reviews
Bill Hebert
(Mar 27, 2019 at 2:50 PM)
I've had massages around the world with some incredible oils . I can honestly say Gayle's Harvest Butter truly enhances the experience as well as providing moisturizing benefits and ease of use for the masseuse with a slight pleasant fragrance . Left for home with 2 bottles and will be getting more as my local masseuse also thought highly of the product .Highly Recommend
Lori
(Apr 27, 2019 at 9:01 PM)
I get very dry, cracked fingertips and hands from washing my hands many times a day. I usually use O'keeffe's for working hands. I would compare Page Springs Harvest Butter to its ability to moisturize my fingertips and hands for extended periods of time and without being greasy. I enjoy Harvest Butter's smell more.
Rick
(Feb 14, 2020 at 7:27 AM)
I have used many commercial and prescribed products for cracked dry sun damaged skin. I used Harvest Butter on my arms and hands with immediate relief of itching and flaking. I use it every other day and the cracking & flaking have not returned. Harvest Butter absorbs easily and doesn't leave my hands greasy.