17 Colibri Cinsault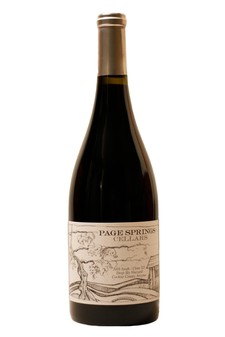 This item is temporarily out of stock
Get it before it's gone! Only 20 bottles left!
89% Cinsault, 6% Counoise, 5% Grenache
Cinsault is our latest addition to the rare red Rhone collection of wines at Page Springs. Often made into roses in southern France, our original intention was to do just that. After picking this small block all by myself this past harvest, the grapes just had too much color and character to deny fermenting the juice on the skins. With grapes coming from the lowest and coolest spot in our very special Colibri Vineyard, this wine is unique by not only being the lone Cinsault planted in Arizona but also in its character. The juicy red raspberry, peach, persimmon and mandarin are all accented by a mysterious green, herbal quality that we found indescribable. Maybe you can decipher it?
25 Cases Produced
Arizona Red Table Wine
Produced and Bottled by
Page Springs Cellars
1500 North Page Springs Road
Cornville, Arizona 86325
928-639-3004
Product Reviews