16 Highlands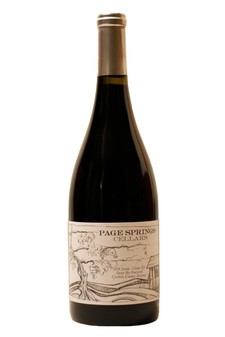 This item is temporarily out of stock
35% Syrah, 28% Petite Sirah, 23% Mourvedre, 14% Grenache
­­­­­­­­­­­­­We have always been proud of our PSC Estate Vineyard. In our valley, PSC sits at a relatively low elevation that is plagued by cold air draining throughout the valley and thus intermittent spring frost. To remedy this we looked up. Dos Padres and House Mountain Vineyards were planted at higher elevations that are slightly warmer and due to the fact that the hill-slopes receive a more constant flow of air that protects the grapes from fungal issues. These young "Highland" vineyards are producing spectacular wines and we want to provide a Rhone inspired blend that embraces our valley's rich soils and perfect grape-growing climate.
212 Cases Produced
Arizona Red Table Wine
Produced and Bottled by
Page Springs Cellars
1500 North Page Springs Road
Cornville, Arizona 86325
928-639-3004
Product Reviews
Jacqueline
(Aug 27, 2020 at 8:02 PM)
This wine is amazing! Having it a year after we've purchased it for our anniversary. Every year we go to page spring cellars and buy a bottle of wine to have for next anniversary. Going on 4 years and this has been the best bottle we've ever had!