16 Coronado Sangiovese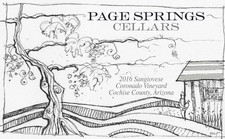 Get it before it's gone! Only 40 bottles left!
100% Sangiovese
The Cook family of Willcox farms this small vineyard on the extreme east side of Willcox. Although I have known them for years we have never had the opportunity to work with their grapes until now. I will never forget the first time I stepped in this vineyard and looked down at the ground: the flat stones looked exactly like the slate floor in my living room! It has been so exciting working with grapes grown on a new soil type of which we have never explored before. True to Arizona Sangiovese, the inaugural vintage of Coronado Sangiovese offers structured acidity, red fruit, and is delicate, pretty and nuanced – but – the slate brings something different and special…!
Only 50 Cases Produced
Arizona Red Table Wine
Produced and Bottled by
Page Springs Cellars
1500 North Page Springs Road
Cornville, Arizona 86325
928-639-3004