Vitae Spirits - Smoked Rum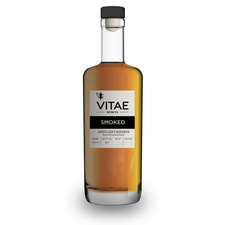 QUICK FACTS:
• Limited release Distiller's Reserve series
• Flavored with pecan wood smoke
• Fermented from evaporated sugar cane juice
• 80 proof / 40% ABV

BATCH #1 DETAILS:
• Flavor: pecan wood smoked using a custom-modified
Traeger smoker, heavy toast American oak,
and a touch of evaporated cane juice
• Bottle Proof: 80 proof
• Production: 272 bottles @ 750 ml 28Aug19
DESCRIPTION:
Savory and sweet, a match made in heaven that winds
through Southern cuisine like blood races through veins.
In our Smoked Rum Vitae Spirits® Distillery has married
pecan wood smoke with a rich cane juice and toasted oak
infusion that melts our Virginian hearts. Enjoy it while it
lasts. Smoked Rum is a limited release of small batches.
Once the batch is gone, all that will be left is fond
memories.

TASTING NOTES & USES:
A rich Favorful rum that invokes memories of summer
barbecues. A prominent sweet and smooth pecan wood
smoke aroma emerges slowly from the glass but
explodes on the palate. This rich and savory rum is a
fantastic way to kick back and slowly sip the
evening away.
Vitae Spirits Distillery• 715 Henry Ave, Charlottesville, VA 22903