Vitae Spirits - Platinum Rum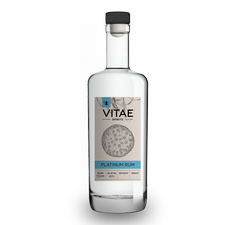 QUICK FACTS:
• Unaged, light, and extremely adaptable
• Fermented from evaporated cane juice from Louisiana
• Naturally gluten-free and sugar-free
• First released in April 2016 (our first product)
• Label art by Lara Gastinger- cross-section sugar cane stem
•80 proof / 40% ABV

AWARDS:
• San Francisco World Spirits Competition- Bronze
• Virginia Living Magazine Made in Virginia Award
• Washington Cup Spirits Competition- Bronze
• American Distilling Institute- Bronze
• Best Rum- Drink Magazine
DESCRIPTION:
Rum has been the Kill Devil of Caribbean buccaneers, the
fuel of our founding fathers' enlightenment, and the soul of
exotic lands, yet it in many ways is one of the simplest of
spirits. Three primary ingredients go into our Platinum
Rum: water from the slopes of the Blue Ridge Mountains,
American sugar cane molasses, and yeast. From that base
we distill a crystal clear spirit we feel is so singular that we
invoke the noble tarnish-proof precious metal platinum for
its name.

TASTING NOTES & USES:
Platinum Rum is the unadulterated essence of American
sugar cane molasses, ripe with creamy caramel and candied
vanilla aromas. We suggest using Platinum Rum in
cocktails that elevate these favors; masterpieces such as
the classic Daiquiri, Mojito, Cuba Libre (Rum & Cola), or The
Pain Killer are tough to beat.
Vitae Spirits Distillery• 715 Henry Ave, Charlottesville, VA 22903