Vitae Spirits - Old Tom Gin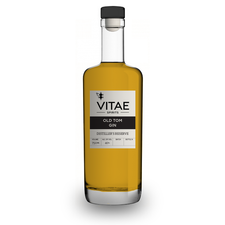 QUICK FACTS:
• Limited release Distiller's Reserve series
• Flavored with a total of 18 different botanicals
• Made with a sugar-cane base spirit
• Naturally gluten-free
• Aged 6+ months in a Bourbon barrel
• 80 proof / 40% ABV

BATCH #2 DETAILS:
• Age: 6+ months in barrel
• Barrel Type:
Char #3 American white oak
25 gal. Ragged Branch Distillery 4 yr. Ryed Bourbon
53 gal. Ragged Branch Distillery 4 yr Wheated Bourbon
• Bottle Proof: 80 proof
• Barrel Proof: 119.41 proof
• Production: 756 bottles @ 750 ml 6May19
DESCRIPTION:
Old Tom gin in the pre-prohibition era was in many ways
considered the standard gin; a bit sweeter than London Dry
gin, and perhaps a little less juniper berry forward. As with
many spirits, prohibition decimated Old Tom style gin's
popularity until the craft cocktail renaissance revitalized
interest in classic cocktails. Vitae Spirits® Distillery's
Distiller's Reserve Old Tom Gin is a small batch limited release
golden gin finished in bourbon barrels from our
neighbors Ragged Branch Distillery, giving it a touch more
sweetness and resinous spiciness than your run of the mill
gin.

TASTING NOTES & USES:
It's amazing how 6 months in a barrel can change a gin. The
oak adds a bit of smooth vanilla favor, while the citrus
and resinous juniper, coriander, and nutmeg-like aromas
come to the foreground.