Vitae Spirits - Golden Rum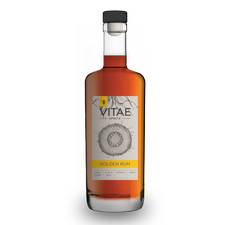 QUICK FACTS:
• Collaboration with Ace Biscuit & Barbecue
• Flavored with charcoal-grilled sugar cane, molasses,
and toasted American white oak
• Fermented from evaporated cane juice from Louisiana
• Naturally gluten-free
• Label art by Lara Gastinger- cross-section sugar cane root
• 80 proof / 40% ABV

AWARDS:
• San Francisco World Spirits Competition- Bronze
• Virginia Living Magazine Made in Virginia Award
• American Distilling Institute- Bronze
• Best Specialty Spirit- Drink Magazine
DESCRIPTION:
Vitae Spirits' Golden Rum is formulated with the word
"rich" as our paradigm. Golden Rum starts as a simple
fermentation consisting primarily of water from the slopes
of the Blue Ridge Mountains, American sugar cane molasses,
and yeast. To the distillate, we add fresh sugar cane
grilled on house-made charcoal in collaboration with our
neighbors Ace Biscuit & Barbecue, a bit of molasses, and
toasted oak to round the body and produce its enchanting
color. At Vitae Spirits Distillery we feel that settling down
with our Golden Rum is as inspirational as gold, the noblest
the element of all.

TASTING NOTES & USES:
The robust character of Golden Rum makes it well suited
for full-bodied cocktails where a subtler rum would be
eclipsed. Some of our favorite cocktails using Golden Rum
include Hot Buttered Rum, Dark and Stormy, Mai Tai, and
many other Tiki bar specials.