Vitae Spirits - Coffee Liqueur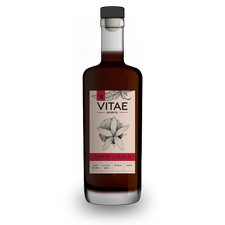 DESCRIPTION:
Vitae Spirits® Coffee Liqueur is an inspired collaboration
with local award-winning Mudhouse Coffee Roasters®.
These folks are real pros, traveling the world in search of
the best coffee beans while continually honing their roast
craft in our home town of Charlottesville, Virginia. Starting
with a special roast of Mudhouse's Intention Blend, we cold
brew and blend the coffee with our house-made sugar cane
spirits under a blanket of argon gas to minimize exposure
to air to preserve freshness.
UNFILTERED TO PRESERVE FLAVOR, SOME SEDIMENT
MAY FORM
TASTING NOTES & USES:
With notes of chocolate, soft stone fruit like plum and
cherry, and caramel, our Coffee Liqueur is perfect straight
or in cocktails such as Black or White Russians, Bushwackers,
or even the oh so decadent Mudslide.

QUICK FACTS:
• Collaboration with Mudhouse Coffee Roasters
• Cold-brewed coffee under Argon gas to preserve flavor
• Coffee beans from Panama and Columbia
• Unfiltered to preserve coffee flavor
• Made with house-made sugar-cane base spirit
• Naturally gluten-free
• Minimal sugar added
• Label art by Lara Gastinger- coffee bean flowers
• 80 proof / 40% ABV

Vitae Spirits Distillery• 715 Henry Ave, Charlottesville, VA 22903