Harvest Body Butter
by Page Springs Yoga Massage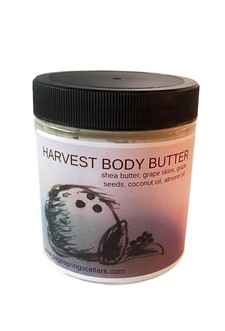 Produced in-house from our own vineyard's grape skins and seeds with Shea butter, Coconut and Almond oil. Unique healthy oil based daily skin moisturizer or great for using in massage. Leaves skin feeling hydrated and rejuvenated, believed to add protection from day to day elements.
$16 per 4 oz. jar.
Best when stored at room temp!
Product Reviews
Bill Hebert
(Mar 27, 2019 at 2:50 PM)
I've had massages around the world with some incredible oils . I can honestly say Gayle's Harvest Butter truly enhances the experience as well as providing moisturizing benefits and ease of use for the masseuse with a slight pleasant fragrance . Left for home with 2 bottles and will be getting more as my local masseuse also thought highly of the product .Highly Recommend
Lori
(Apr 27, 2019 at 9:01 PM)
I get very dry, cracked fingertips and hands from washing my hands many times a day. I usually use O'keeffe's for working hands. I would compare Page Springs Harvest Butter to its ability to moisturize my fingertips and hands for extended periods of time and without being greasy. I enjoy Harvest Butter's smell more.