PSC Jalea & Wine Trio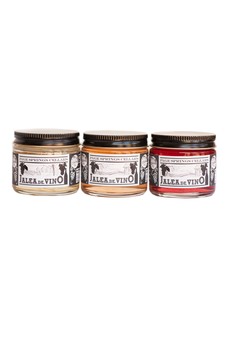 Jaleas can not be shipped at high temps, just like wine! Temperature based shipping restrictions are in place. Orders can be picked up from the PSC Tasting Room.
---
PSC Jelly & Wine Trio!
We've partnered with Carolyn's Classics Cottage Kitchen in Tempe to produce 3 jellies made from 3 PSC Wines!
Vino del Barrio Blanca
Mule's Mistake
La Flor Rosa
Get all 3 Wine Jellies and the wines that inspired them for $50!*
Jelly Ingredients: PSC Wine, cane sugar, GMO-Free pectin, and lemon juice
*Member discounts and free shipping discounts do not apply.