Jalea de Vino
PSC Wine Jelly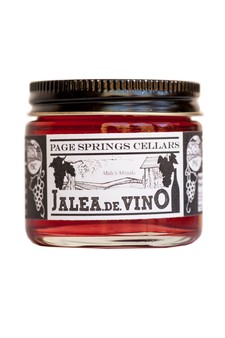 Jaleas can not be shipped at high temps, just like wine! Temperature based shipping restrictions are in place. Orders can be picked up from the PSC Tasting Room.
---
Page Springs Cellars Wine Jelly
PSC has partnered with Carolyn's Classics in Tempe, AZ to produce 3 amazing jellies made from PSC wine! Choose from Vino del Barrio Blanca, Mule's Mistake and La Flor Rosa!
$6 for one 2oz jar
Member discounts apply!
Ingredients: PSC Wine, cane sugar, GMO-Free pectin, and lemon juice