Gift Box - White Wine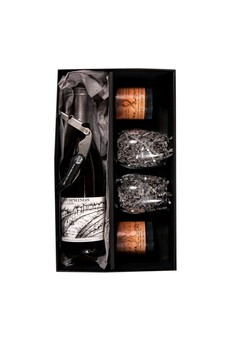 New! Holiday Gift Boxes!
Make your holiday shopping easy with a PSC Gift Box. Gift box includes 1 bottle of 2018 Vino de la Familia, 2 PSC Glass Tumblers, 1 PSC Wine Key, 1 4-oz Jar of Second Harvest Body Butter, and 1 4-oz Jar of Second Harvest Ground Wine Pomace.
2018 Vino de la Familia Blanca -
91% Malvasia Bianca 8% Gewurztraminer 1% Ugni Blanc
White wine for the Family! This is a wine to be shared with the ones closest to you. Its fragrant, tropical aromas jump from the glass, stimulating both the senses and conversation. With Malvasia's historical viticultural origins in southeastern Turkey, this liquid landscape is both: ancient and new, simple but complex. This year's blend comes from primarily from Stronghold's Bonita Springs and our Estate, Dos Padres vineyards. The small addition of Gewurtztraminer and Ugni Blanc add additional floral and spice notes. Enjoy the waves of pineapple, mandarin, muskmelon, white lilies, and honeysuckle with an open mind and thoughts of high elevation Arizona.
PSC Glass Tumblers -
2, stemless wine glasses with PSC Logo
PSC Wine Key -
Black Wine Key with a two-step lever. Page Springs Cellars Logo printed on the handle.
Second Harvest Body Butter -
Produced in-house from our own vineyard's grape skins and seeds with Shea butter, Coconut oil, and Grapeseed oil. Unique healthy oil-based daily skin moisturizer. Great for use in a massage. Leaves skin feeling hydrated and rejuvenated, believed to add protection from day to day elements.
Second Harvest Dry Ground Wine Pomace -
Made from 100% Arizona wine grape skins and seeds! Contains antioxidants, resveratrol, calcium, magnesium, phosphorus, vitamin K, and anti-inflammatory properties! Add to smoothies, pasta, bread, cookies, sprinkle on yogurt, salads and anything else you'd like!