Gift Box - Red Wine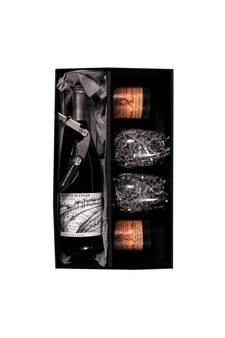 New! Holiday Gift Boxes!
Make your holiday shopping easy with a PSC Gift Box. Gift box includes 1 bottle of 2018 Vino de la Familia, 2 PSC Glass Tumblers, 1 PSC Wine Key, 1 4-oz Jar of Second Harvest Body Butter, and 1 4-oz Jar of Second Harvest Ground Wine Pomace.
2018 Vino de la Familia -
45% Syrah, 38% Petite Sirah, 14% Teroldago, 3% Malvasia Bianca
The Vino de la Familia has and always will be about fullness. When we first crafted this wine in 2003, the notion of a large family gathering kept entering my mind. I imagined a room filled with conversation, children darting back-and-forth between play and visits with the adults, a large table covered with savory foods and, of course, copious quantities of full-bodied, dark-wine that could stand up to the richness of the setting. Velvety, mouth-watering and delicious! 2018 marks the 16th year for this wine – and we continue to use all Arizona fruit!
PSC Glass Tumblers -
2, stemless wine glasses with PSC Logo
PSC Wine Key -
Black Wine Key with a two-step lever. Page Springs Cellars Logo printed on the handle.
Second Harvest Body Butter -
Produced in-house from our own vineyard's grape skins and seeds with Shea butter, Coconut oil, and Grapeseed oil. Unique healthy oil-based daily skin moisturizer. Great for use in a massage. Leaves skin feeling hydrated and rejuvenated, believed to add protection from day to day elements.
Second Harvest Dry Ground Wine Pomace -
Made from 100% Arizona wine grape skins and seeds! Contains antioxidants, resveratrol, calcium, magnesium, phosphorus, vitamin K, and anti-inflammatory properties! Add to smoothies, pasta, bread, cookies, sprinkle on yogurt, salads and anything else you'd like!