Full Virtual Tasting Kit
Includes all Tasting Dates!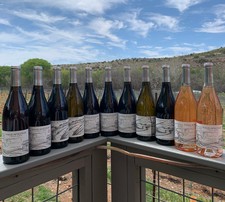 Temperature based shipping restrictions are in place! We are no longer taking orders that require wine to be shipped. Will call orders are still welcome!
Check out our new Phoenix Area Drop Points!
Join Eric Glomski and Page Springs Cellars for Virtual Wine Tastings! We have hand-selected 11 special bottles to enjoy LIVE online from the comfort of your home! This experience includes a package of 11 bottles of PSC wine, as well as 1 canister of 100% green Private Preserve - Wine Preserver to prolong any remaining wine.
This package includes the wines for all 5 Virtual Tastings with an extra 15% off! Every Saturday in May at 5:30 pm we will be going LIVE on both Facebook & YouTube! May 2nd, May 9th, May 16th, May 23rd, and May 30th
---
Pricing:
$396 @ 15% off: $336.60
WineClub Member's Discounts apply!
Package Includes:
2017 Dos Padres Vineyard Syrah Clone 470 - Aged on French Oak
​2017 Dos Padres Vineyard Syrah Clone 470 - Aged on Hungarian Oak
2017 Dos Padres Vineyard Syrah Clone 470 - Aged on American Oak
2018 Vino de la Familia
​2018 Vino de la Familia Blanca
2017 El Serrano
2018 La Serrana
2019 Colibri Grenache Rose
2018 La Flor Rosa
2018 Mules Mistake
2016 House Mountain Teroldego
Private Preserve- Wine Preserver: Argon & Nitrogen Blend (120+ uses)
Timeline
Temperature based shipping restrictions are in place! We are no longer taking orders that require wine to be shipped. Will call orders are still welcome!
The first Virtual Tasting will go LIVE on PSC's Facebook & YouTube at 5:30 pm on Saturday, May 2nd with another occurring each Saturday in May (recordings can be viewed after the live date! Check out our YouTube Channel!)