2021 Summer Special Release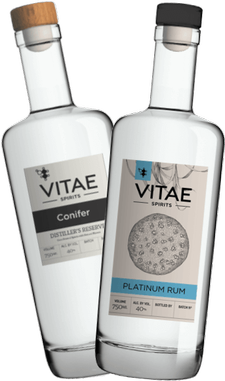 It's that time of year to sit back and enjoy some of PSC's special offerings! Get two of our premium spirits from Vitae Distillery.
This summer we're offering club members a special on:
These two bottles would retail at $88, but your price is $80 PLUS your membership discount! This offer is available now through September 6th, 2021 or until supplies run out. Order now to save big.
*Note these bottles can only be shipped within the state of Arizona or picked up at the winery. Phoenix Drops are available!
Pain Suppressor
1 ½ oz. Vitae Spirits Platinum Rum
¾ oz. fresh orange juice
¾ oz. fresh pineapple juice
¾ oz. cream of coconut
½ oz. fresh lime juice
Fresh ground nutmeg
__________________
Combine ingredients in a shaker with ice.
Shake well and pour into a rocks glass.
Grate fresh nutmeg over the top to garnish.
Tips & Tonic
Pour 2 oz Conifer into a rocks glass with Ice
Fill with quality tonic water
Squeeze Lemon or lime
Product Reviews