12 Arizona Port
ASV Petite Sirah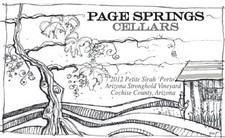 This item is temporarily out of stock
Get it before it's gone!
2012 Petite Sirah "Porto'
100% Petite Sirah
We have not made a Port style wine here at Page Springs since the fabled "F.I.S." Cabernet Sauvignon in 2004. This year we were inspired by the deep, dark, syrupy characters of this wine and just couldn't imagine bottling something this massive as a dry table wine. Having access to a nice stock of excellent quality Arizona brandy in our midst, we went the traditional Portuguese route and fortified this wine and forever changed its destiny. After many years of ageing, we bring this delicious and ageable wine to you and pay homage to the great wines of the Douro Valley of Portugal.
98 cases produced.
For Sale in AZ Only
Arizona Red Fortified Wine
Produced and Bottled by
Page Springs Cellars
1500 North Page Springs Road
Cornville, Arizona 86325
928-639-3004